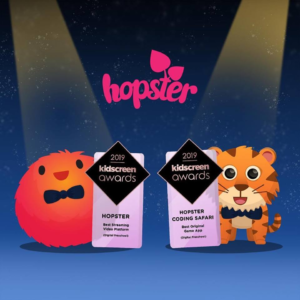 Happy times at Hopster – we picked up BOTH prizes we were up for at this year's Kidscreen Awards. In the Digital Preschool category, Hopster won Best Streaming Video Platform and Hopster Coding Safari nabbed the Best Original Game App award!
source: http://kidscreen.com/2019/02/12/who-walked-away-with-a-2019-kidscreen-award/
Kidscreen is the leading international trade publication serving the informational needs and interests of kids entertainment professionals. Published eight times a year, the magazine's editorial content provides comprehensive analysis of the news, issues, trends, market shifts and opportunities having an impact on all sectors of the business, including TV production, distribution & programming, licensing & retail, marketing & promotions, gaming & digital media, feature films, home entertainment and publishing. In addition to the magazine, Kidscreen's brand includes a website, an on-line newsletter delivered digitally every weekday and a marquee annual event that brings 1,500 of the industry's top players together for three days of networking and professional development.
HOPSTER TV is an educational platform for pre-school children. It offers a rich library of VOD and application for mobile devices. Children will find on it cartoons, games, e-books and music videos. Focus of the programming team is put on education of children. The platform is present in the Comcast, Amazon, Roku, Dish, Sling, SBB and many other significant pay TV operators.